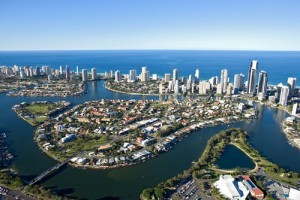 The Chevron Island precinct is a small yet exclusive residential enclave. Even though it is not an official suburb of the Gold Coast, but is rather a part of Surfers Paradise, the area does have its own unique identity.
Situated in the middle of the Nerang River, Chevron Island has clear access to both Surfers Paradise and Bundall. Also the island has direct access to the Broadwater, with the Gold Coast Bridge the only obstacle to contend with.
There are three very different dwellings styles that make up the island, including the older-style, one-storey houses that date back to the 1960s; the more modern three and four-storey homes that are the norm for the island; and the exclusive absolute riverfront homes located around the island`s perimeter.
The future for Chevron property market appears solid, as the town plan allows buildings in the centre of the island to reach a maximum height of eight to ten levels; this however will be balanced by a greater proportion of the parcel being set aside for landscaping.
Cronin Island is situated at the northern tip of Chevron and is another prestige tight-knit community. The island is small and has only one street – Southern Cross Drive – that surrounds a park. As you would expect, the homes are grandiose and exclusive. One of Cronin Island`s impressive claims is that it is home to Queensland`s first million dollar house sale back in 1983.
Source: REIQ