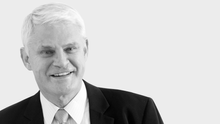 Licensed Real Estate Agent
Rob believes his clients deserve a level of care and focused expertise, which produces a premium result. As the only Broadbeach agent focused on luxury beach side high-rise apartments, both Rob's database and detailed knowledge of the market ensure a smooth process and a premium result.
"I joined Ray White (Broadbeach) in 1994 and in my first year received Ray White's Rookie Of The Year Award, possibly the oldest Rookie of all time! During the next four years I earned many prestigious awards including Ray White's Marketer of the Year on two occasions which has never been done before. My sales achievements were unparalleled, including the sale of the beach side home of Brian White, Chairman of the Ray White Group."
"I am proud of my reputation for integrity and impeccable service, specialising in luxury Beach Side Apartments and Prestige Properties."
"During the 2014 Elite Performers conference at The Shed, Crows Nest, our chairman Brian White recorded a video testimony for each agent."
"I have received literally hundreds of positive remarks about this video, including fellow agents enquiring how they can secure the same. Tongue in cheek, I usually respond, "When you are 68 years and have known Brian for more than two decades, then you may qualify". I then explain that our obliging chairman is prepared to do the same for all deserving agents."
"When I have time to reflect on what I have achieved during the past four years, especially Elite Performer status after just two years, of course I feel gratification, but I must admit with all sincerity I am not satisfied."
I attribute my success to:
- Premiere exposure on realestate.com.au
- My unique user-friendly personal website
- Innovative marketing and Gold Coast Bulletin exposure
- High degree of service to clients
- Willingness to conjunct with other agents
Agent Reviews
Mark Hawthorne

I recently purchased a unit in Air on Broadbeach with Rob Astbury as the agent. After 25 years with McDonald's Restaurants I take special notice of customer service. Rob has his own internet page which gave an air of premium. He took time to understand my needs and maintained a high level of service even after the contract had been signed. In an industry where there are so many agents Rob Astbury deserves a Gold Medal.