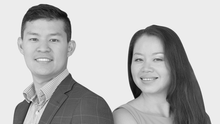 Sales & Marketing Consultants
Bryan and Sabrina is the choice for those who are seeking an exceptional experience. Both are known for their unique expertise in the property market, Bryan and Sabrina show a natural competitiveness and have true passion for real estate industry.
Bryan comes from a property valuation background, where he was a registered practicing valuer for Herron Todd White for over five years on the Gold Coast, conducting over 5,000 property valuations. He applies his extensive knowledge of the property industry when dealing with his clients, and values the importance of information that can be provided to home owners.
Sabrina worked diligently to complete her double masters in tourism and accounting at Griffith University. Shortly afterwards, Sabrina became a proud citizen of Australia in 2010. Four years later Sabrina was welcomed by the team at Ray White, Broadbeach.
One thing you may have noticed about the Gold Coast market is the growing number of Chinese investors. While this might present a language and cultural barrier for most agents, Sabrina relishes the opportunity to use her bilingual talents. She grew up in the Sichuan Province of China during a time of great economic and cultural growth. Her ability to tap into a network of foreign buyers through Chinese social media is unique to her special skill set.
You will not forget Bryan and Sabrina's approach to buying, selling and negotiating. They care for her clientele and help them with whatever they need. Both Bryan and Sabrina perform hours of research to not only get to know your market, but also get to know you. They have even been known to give a client a 'Get Well' card when they had fallen ill. Sabrina understands the personal ties that her clients can have to their properties. Her empathy and understanding is a beautiful quality she brings to the table.
By representing one of the top Ray White offices, Bryan and Sabrina have had extensive training to provide an exceptional experience for both buyers and sellers throughout the transaction process. They are driven to serve their customers, and see it as their top priority.